Earn double My Nintendo Gold Points on select digital Nintendo games!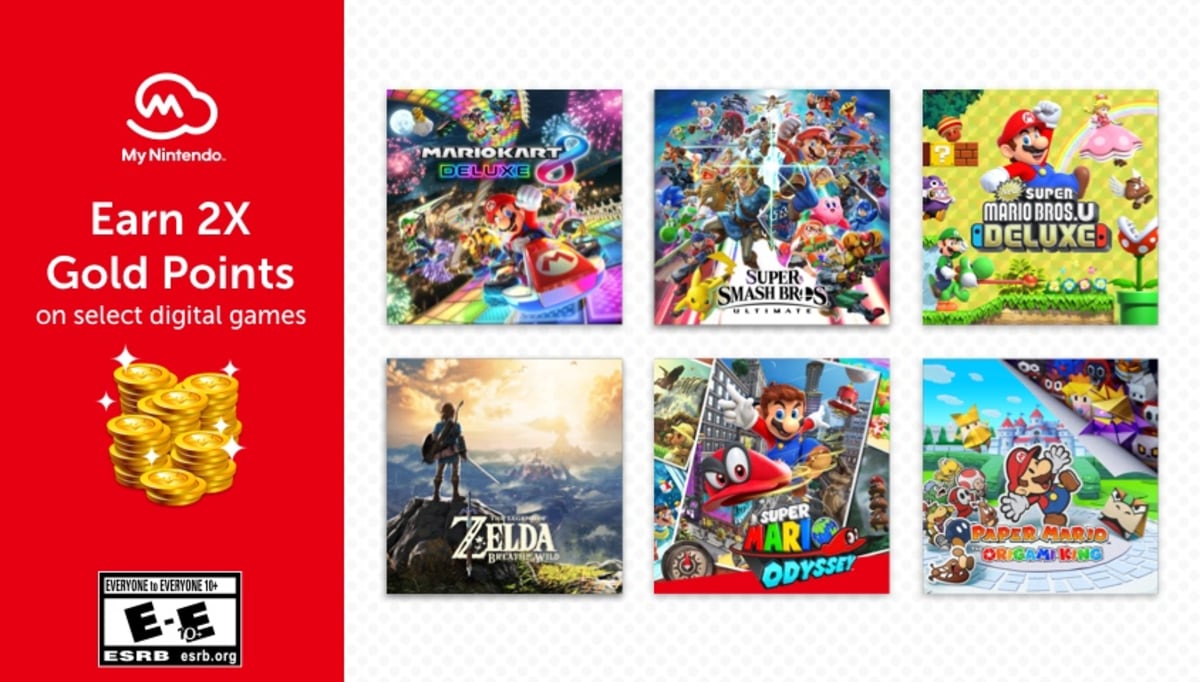 Here is a golden opportunity not to be missed! From From 01/31 21:00 PT to 02/28 23:59 PTyou can earn up to 600 My Nintendo Gold Points, double the normal amount, when you purchase certain digital games through the Nintendo eShop or Nintendo.com (where applicable), or participating retailers, including Super Smash Bros.™ Ultimate, The Legend of Zelda™: Breath of the Wildand more!
Receive a bonus 300 My Nintendo Gold Points (in addition to the 300 Gold Points you would normally get).
Bonus points will appear in your My Nintendo points balance for up to 14 days after purchase.
Gold Points are awarded based on the amount you pay (excluding taxes and points or discounts used) and have no cash value. Bonus points are earned based on the game's original list price on Nintendo eShop and vary by country and currency.
A Nintendo Account is required to receive and redeem My Nintendo points. Conditions apply. https://accounts.nintendo.com/term_point.
Shop now: /en-ca/games/sales-and-deals/#double-gold-points
Here's the full list of games you can purchase during this limited-time promotion to earn double My Nintendo Gold Points:
Paper Mario: The Origami King
The kingdom has been ravaged by an origami menace! In this comedy-filled adventure, join Mario and his partner, Olivia, as they battle evil retreating soldiers, repair the damaged landscape, and attempt to liberate Princess Peach's castle. The battles have a puzzle-solving flair, so you might want to set your sights on thinking.
Mario Kart 8 Deluxe
Race and battle your friends in the definitive Mario Kart 8 game, with a ton of characters, tracks, and customization options for your kart. Gather around the TV for 4-player multiplayer* or challenge players online** in matches of up to 12 players. The game also includes Smart Steering for players new to racing games and the ability to pass a Joy-Con™ controller to a friend to do a quick race together.
Super Smash Bros Ultimate
Gaming icons go head-to-head in the ultimate brawl you can play anytime, anywhere! Crush your rivals off the stage as fighters like Simon Belmont and King K. Rool join Inkling, Ridley and every fighter in Super Smash Bros. history. Whether you're playing solo, with friends* at home, or online**, this game is packed with content.
Super Mario Odyssey
Join Mario on a huge 3D adventure around the world! Thanks to his friend Cappy, Mario has the power to capture and control certain objects, animals and even enemies. Power the Odyssey airship and foil Bowser's nefarious wedding plans. And if there's a less experienced player in the house, Assist mode or two-player co-op mode (in which one player can control Cappy with a single Joy-Con controller) may be just what they need!
The Legend of Zelda: Breath of the Wild
Enter a world of discovery, exploration and adventure as you journey through the wilds of Hyrule. Link, the legendary hero, must recover his lost memories, gather allies and prepare for the ultimate battle. Clever puzzles, intense action and beautiful landscapes are waiting for you.
New Super Mario Bros. U Deluxe
Join Mario, Luigi and their friends for single or multiplayer fun anytime, anywhere! Take part in two side-scrolling family adventures with up to three friends* as you try to save the Mushroom Kingdom. Includes New Super Mario Bros. games. U and New Super Luigi U games harder and faster.
For more information on Gold Points, be sure to check out My Nintendo.